Perry Hoberman¶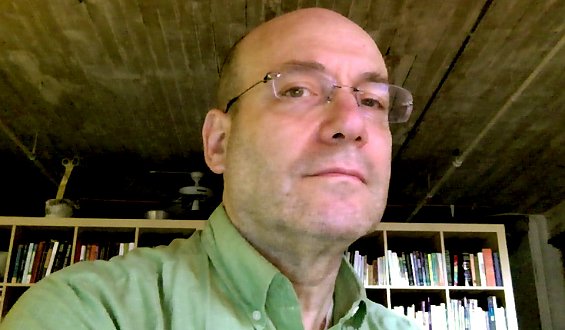 Biosketch¶
PERRY HOBERMAN is an Associate Research Professor in the Interactive Media Division at the USC School of Cinematic Arts. Hoberman is a media, installation and performance artist whose work has been presented widely throughout the United States and Europe for more than three decades.
He works with a variety of technologies, ranging from the utterly obsolete to the seasonably state-of-the-art, and has been the recepient of many awards and honors, including the Grand Prix at the ICC Biennale, and an Award of Distinction from Ars Electronica. 'Unexpected Obstacles', a retrospective survey of his work, was seen in 1998 at the ZKM Mediamuseum in Karlsruhe, Germany.
Hoberman has been a Guggenheim Foundation Fellow and a Rockefeller Media Arts Fellow, and is represented by Postmasters Gallery in New York. He has taught at the Cooper Union School of Art, the San Francisco Art Institute, the California Institute of the Arts and the School of Visual Arts. His current research focuses primarily on stereoscopic and immersive media and virtual reality, and he has taught and lectured widely on these and other topics.
Technologies of immersion¶
Perry explored at some of the directions that virtual reality is headed given a number of recent developments. These include a discussion of MxR Lab's current work with low-cost portable VR (handheld stereoscopic devices incorporating phones and tablets), and the implications of new devices like MxR Lab's Socket and the Oculus Rift. Perry also spoke about some of the complexities of immersive experience, contrasting different technologies and techniques and their capabilities for representation, augmentation and telepresence.